About the author
I am a business owner of a little flower shop, and every day I am positively intrigued at the body language of my customers, which sparks off ideas for my books on a daily basis. So watch out if you come through my doors - you are being observed!
Some people may even recognize parts of their speech or character depicted in my books! We won't mention any names...Angela!


Favourite Movie?
One of my favourite movies other than the BBC Jane Austen series 'Pride and Prejudice', is "You've Got Mail" - it's light and funny and oh so delightful.

The little nuances between the two love-interest characters are charming.

I suggest you sit with a cuppa char and a woolly blanket over your knees on a rainy Sunday and watch this feel-good movie.
favourite quotes?
"the greatest mistake a man can ever make is to be afraid of making one"
Elbert Hubbard

"Friendship is certainly the finest balm for the pangs of disappointed love"
Jane Austen

"We shall never know all the good that a single smile can do"
Mother Theresa

"Courage is what it takes to stand up and speak. Courage is also what it takes to sit down and listen"
Sir Winston Churchill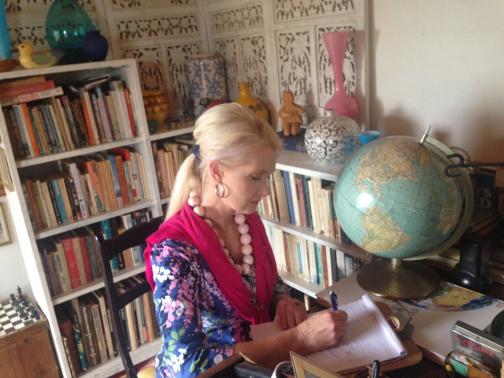 Flowers inspire...
Working with flowers has always been intriguing for me. There is a little botanical booklet that I found at a Hospice shop on the meaning of flowers which I treasure; it is hand-written and quite beautiful with little sketches of flowers.
The handwriting even goes a little skew now and then where the writer had to try and squeeze in the meaning of flowers on one line, it's thoroughly delightful!
Very often flowers are mentioned in my novels together with their meaning. Which reminds me: If you come across the novel by Vanessa Diffenbaugh, 'The Language of Flowers', it's worth a read!
Knights in shining armour..!
Even as a child I was drawn to all things romantic. My sister, Candy, used to tease me saying that I was waiting for a knight in shining armour on a white horse to rescue me..

A neighbour, a tattoo artist who does not know me very well, suddenly asked if I would like a 'knight on a horse in a field of flowers' tattooed on my body! Certainly not! I replied, but I've admired him ever since - since he was on the right track about the knight if nothing else!
'I wandered lonely as a cloud
That floats on high o'er vales and hills,
When all at once I saw a crowd,
A host of golden daffodils;
Beside the lake, beneath the trees,
Fluttering and dancing in the breeze.'
excerpt from William Wordsworth